Steppes Hill Farm Antiques Newsletter #44 - April 2015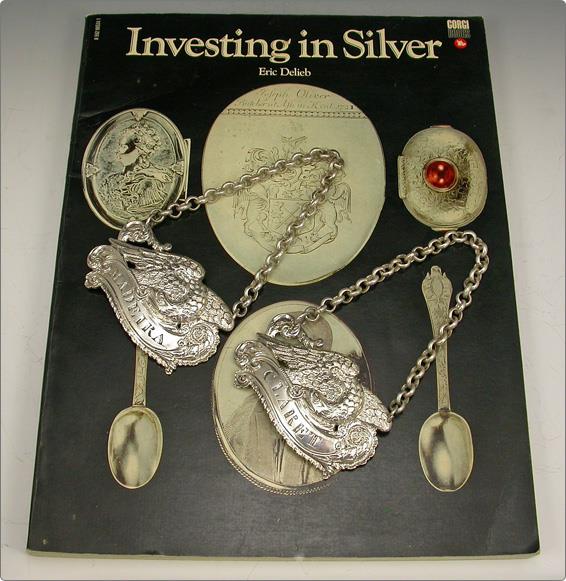 Click on the above image to zoom


Dealing in small collectable silver I often find myself referring to the two pioneering works written by the late Eric Delieb back in the 1960's; 'Investing in Silver' (1967) and 'Silver Boxes' (first published in 1968). The two books still remain highly relevant and probably the most often quoted reference sources for collectors, auction houses and dealers in antique collectable silver and objects of virtue. We have been fortunate over the years to have handled several pieces that Eric used to illustrate his books and it is always gratifying to be able to quote his work as a reference for a particular item. I can do that this month having just acquired an important pair of George III cast silver Armorial Wine Labels depicting Eagles holding scrolled name plates in their beaks with suspension rings and incised for CLARET & MADEIRA, acanthus leaf and shell ends to the scrolls and feathered borders. The pair of labels were illustrated in Eric's first book 'Investing in Silver' on page 126. They are of particularly fine quality and construction and are one of only two known pairs.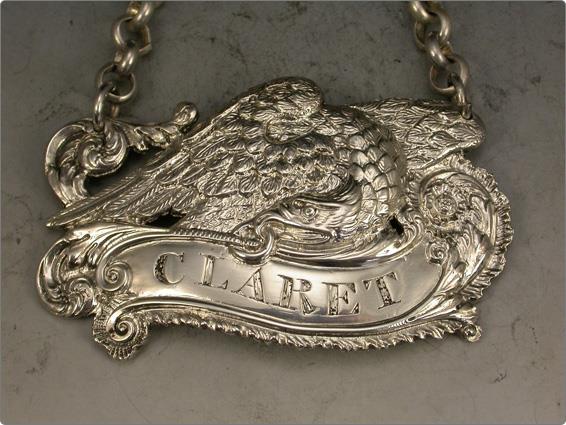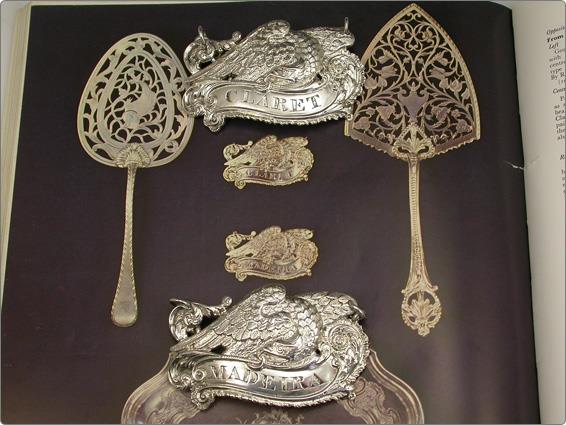 Click on the above image to zoom (page 126 'Investing in Silver' by Eric Delieb)


The only other known pair of these labels, also by Joseph Fearn of London 1817, but engraved for PORT & SHERRY also have an interesting provenance and story associated with them.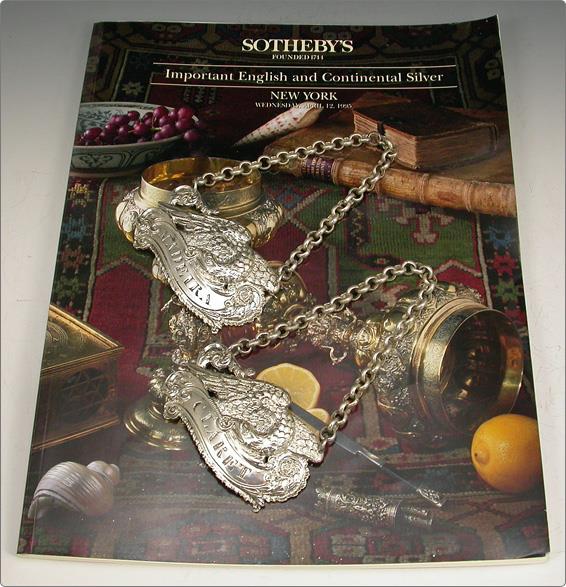 Click on the above image to zoom (Sotheby's New York Catalogue 12th April 1995 including The Raphael Weed Collection of Wine Labels)


They last appeared on the market as part of a famous collection of Wine Labels sold by Sotheby's New York on the 12th April 1995; The Raphael Weed Collection of 551 Wine and Sauce Labels was sold on behalf of the New-York Historical Society to whom he bequeethed the collection shortly before his death in 1931. It was one of the most important single owner collections of Wine Labels to come onto the market since the collecting of these small silver items became popular and the prices achieved at the auction were substantial.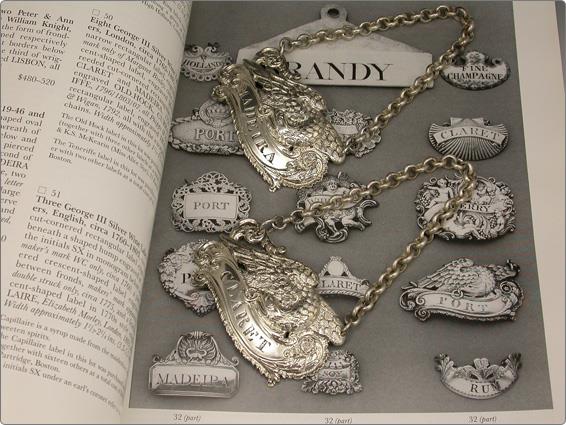 Click on the above image to zoom (Lot 42 A pair of George III cast silver crouching Eagle Wine Labels by Joseph Fearn, London 1818).


The collection as a whole realised over $120,000 (£80,000) with over 20 lots working out at $1,000 plus per label. The highest prices paid were $8,337 for Lot 8 - 12 silver sauce labels by George and Alice Burroughs (which included the legendary title - "Zoobditty Match"), and $6,900 (£4,600) for Lot 42: the pair of Eagles. This is over £8,000 in today's money allowing for inflation!





We also have a few other pieces currently in stock that are illustrated in Eric Deleib's books, namely the Vinaigrettes with Running Hart and Musical Grilles on page 116 (Investing In Silver) and the Maltese Cross Vinaigrette on page 112 along with a Handbag Vinaigrette very similar to the one on page 111. I have a silver mounted horn Bird Pepper not unlike the Vinaigrette on page 112. We have the rare Norwich Cathedral Vinaigrette illustrated on page 114 and a 'Goblet & Festoon' Hester Bateman Wine Label similar to that on page 143 as well as a fine scallop shell Wine Label by Benjamin Smith like the two on page 144. I also have the Mussel Shell Vesta at Fig 5, page 54 (Silver Boxes) and a Mussel Shell Vinaigrette similar to the one at Plate 148 page 95 (Silver Boxes) plus the rare Walnut Vinaigrette by Sampson Mordan at Plate 76 page 40 (Silver Boxes), a nice Raying Shell Vinaigrette by Matthew Linwood Plate 146 page 95 (Silver Boxes), a really fine York Minster High Relief 'Castle-Top' Vinaigrette as at Plate 191 page 119 (Silver Boxes), an engraved Vinaigrette depicting Warwick Castle from the River Avon by Nathaniel Mills Plate 239 page 149 and a Windsor Castle Vinaigrette by Mills as per Plate 246 page 152.







Other recent finds include an Edwardian Silver Butt Marker from the 'Ladykirk Estate' in Berwickshire, a fine cased Set 4 George V Cast Silver & Gilt Fox & Hound Menu Holders, a rare Silver & Enamel Golfing Vesta Case, a superb Castle Top Card Case depicting 'Melrose Abbey', a rare Victorian Novelty Vinaigrette in the form of a Walnut, a silver a guilloche enamel Trumps Marker, and some nice new additions to the Pin Cushion and Caddy Spoon Categories.





Please make sure and check out the latest articles in our Blog, for all the latest news in the silver world and some other interesting features





I do hope that you will find this Newsletter informative and helpful and will allow us send it to you on a regular basis. I would welcome any feedback you may have, both positive and negative.

David W.A. Buck.
Steppes Hill Farm Antiques

| | |
| --- | --- |
| | |