Steppes Hill Farm Antiques Newsletter #39 - November 2014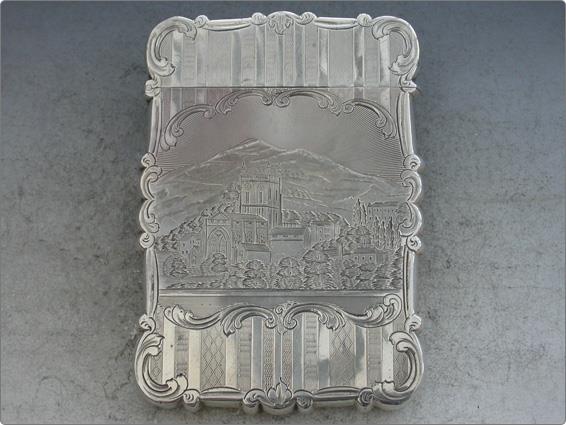 Click image above for more details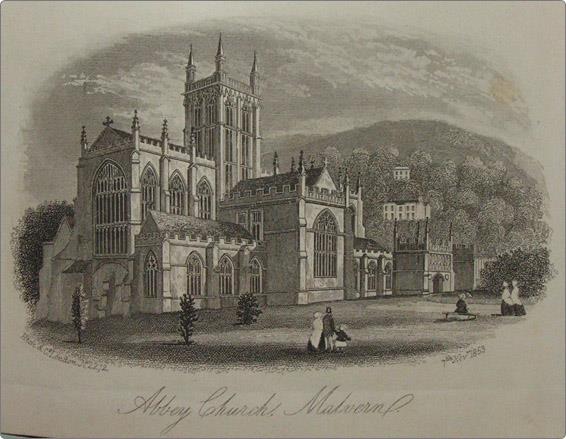 Click on the above image to zoom



The commercial fortunes of Victorian silver 'castle top' card cases, engraved or embossed with views of British landmarks, depend primarily on the scarcity of the scene depicted, and what a year it has been for rare scenes on Card Cases appearing at auction. On February 26th 2014 Dreweatts of Donnington Priory, Newbury in Berkshire, offered a high relief example depicting the Dublin International Industrial Exhibition building of 1853. It was made by the celebrated Birmingham box maker Nathaniel Mills and hallmarked for 1852. In fine condition and complete with its original leather case, estimated at £3000-5000, it sold to a private European collector for £10,540. The price is thought to be an auction record for a castle top card case.

In 2005 Dreweatts also sold a case hallmarked by Nathaniel Mills, London 1845, chased with an external view of the Bevis Marks Synagogue, London, for £9,920 (the second highest price ever achieved for a silver card case).Reverting back to this year, on 9th July 2014 the same Saleroom had a rare Victorian silver castle top card case by Nathaniel Mills, Birmingham 1848, titled Bristol High Cross 1763 , on a matted ground in a parchment-type oval reserve with scroll and flower chasing, the reverse with a vacant reserve on an elaborate scroll and floral chased ground, 10cm (4in) high, 77g (2.5 oz), in a leather covered case. It fetched £7,192 inclusive of premium.

On the 18th June, Bonhams of New Bond Street, London, had in their sale of Fine Silver & Gold Boxes, a rare Victorian silver Blackrock Castle "castle-top" card case, by Frederick Marson, Birmingham 1879. Of typical form, the front with a relief depiction of the round tower of Blackrock Castle in Cork from the River Lee, with scrolls and flowers above and below, the reverse with similar foliate scrolls and flowers around a vacant shield cartouche, length 10cm, weight 1.5oz. It sold for £7,800 inc'. buyers premium.

Only last month, Lawrences of Crewkerne in Somerset sold a rare Victorian engraved silver "castle top" Card Case of shaped oblong outline with a view of Trafalgar Square on the front between bands of engine-turning, the reverse engine-turned with a central shield cartouche, initialled, by Nathaniel Mills, Birmingham 1848; 3.5" (8.7 cms) high; 1.4 oz. Of small size and not in pristine condition, it made £4,196.

So it is clear that demand for these rare topographical scenes is strong, and I am therefore excited to be able to inform readers of a castle top Card Case depicting a scene that I have not seen recorded before, namely Great Malvern Priory in Worcestershire with the Malvern Hills in the background. The case is by Nathaniel Mills, Birmingham 1851 and can be viewed on the web site in the Card Case Category.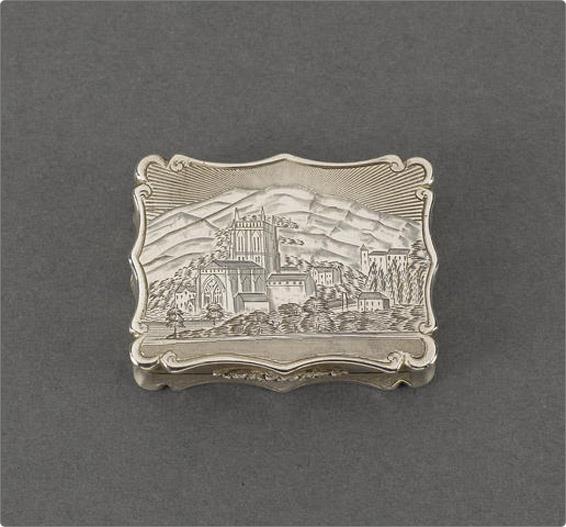 Click on the above image to zoom

A Vinaigrette by Nathaniel Mills depicting the same scene and also dated 1851.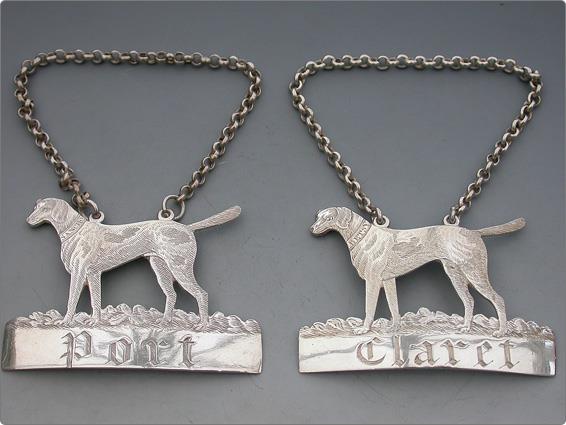 As well as the Great Malvern Priory Card Case featured above I can also offer another fine rarity this month in the shape of a pair of George III Scottish silver Wine Labels made in the form of Foxhounds. They stand on narrow rectangular bases with engraved foliage surmounts and have their kennel names engraved on their collars - 'SANCHO' & 'BETSY'. They are by Robert Gray & Son of Edinburgh 1812.

To say that these labels are unique would probably be foolhardy, and they are very similar in design to a pair depicting a horse and rider accompanied by a hound, that were in the late Gerald S.Sanders Collection (published in 1963). Interestingly, this pair were also Scottish but slightly later, by J.McKay of Edinburgh 1818.





Continuing the theme of recent acquisitions, I have added several new pieces of stock to the site this month and some other highlights might include; a slim early 20th century silver shooting Butt Marker, a rare pair of Victorian Novelty Silver & Enamel Dice Pepper Pots, a large cased Victorian Silver Gilt Quill Dip Pen, a Victorian silver Golden Pheasant Paperweight on Connemara marble base, a nice cased set of George III silver gilt Miniature Spoons & Sugar Tongs, a rare Provincial Silver Marrow Scoop by Richard Richardson of Chester, and some interesting new additions to the Caddy Spoon and Wine Label categories.





I do hope that you will find this Newsletter informative and helpful and will allow us send it to you on a regular basis. I would welcome any feedback you may have, both positive and negative.

David W.A. Buck.
Steppes Hill Farm Antiques

| | |
| --- | --- |
| | |